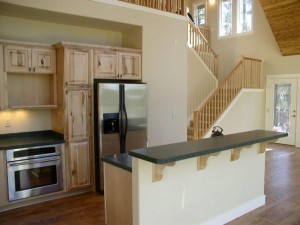 We were living in Ohio and could not personally interview a builder and were not familiar with the builders available in the area. Our architect recommended several and he sent our house drawing out to three that we selected. The first one to call was Tom Pryor, Cascade Property Development. After talking to him, you could tell that he had reviewed the plans very carefully and had some suggestions for finish work. Tom really impressed us with the attention he had paid to our plans and what we wanted to achieve. Immediately we knew that we wanted Tom to build our home.
Working with Tom was easy. He contacted us on a regular basis, listened to our ideas, made suggestions, and executed the changes. Tom's responsiveness and positive attitude made the sometimes stressful job of building a custom home enjoyable. He even suggested several changes that turned our house into the beautiful home it is today. Of course, we shouldn't omit that Tom finished the project on time and under budget.
Both Ellen and I would highly recommend Tom Pryor to build your home. He is a man of great integrity and reliability. Tom has a lot of contacts with the building trades and has excellent craftsmen working with him. He will ensure that the work that is done on your home is high quality. If you want a home and not just a house; go with Tom.
Sincerely,
Timothy & Ellen Currie