Cascade Custom Homes  –  A Building Tradition
Tom Pryor is continuing a building tradition started by his great grandfather in Maine. Tom started in the construction industry framing homes in 1979. Later, while earning a degree in general math and science, Tom worked supplying building materials to professional home builders and has experience with all types of both large and small residential housing projects, along with small commercial projects. Tom has been working through-out Central Oregon since 2000. We are a licensed, insured, and bonded general contractor with the State of Oregon CCB.
Throughout the years Tom has consistently been committed to his client's satisfaction.
One measure of success are the many former clients referring family and friends, as well as past clients having Cascade Custom Homes back to build additional projects for them. Our favorite measure of a successful project is how happy a homeowner is throughout a project; Tom says
"I enjoy working with clients, and fulfilling their dreams. Part of my job is to ensure our clients enjoy the process of building their new home.  We have a great rapport with our previous homeowners, and are proud to be able to use them as references".
Tom has been active in the Central Oregon Builders Association since 2002, and served as president in 2009.
We have been fortunate to be honored with several awards including the Central Oregon Builders Association Builder of The Year in 2009.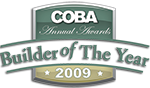 ---
Mission Statement
We are quality builders, dedicated to ensuring our homeowners enjoy the experience of creating the custom home of their dreams. Our integrity insures your home will be completed correctly and on time.
We provide value in all we do, and our service extends beyond the completion of your home.