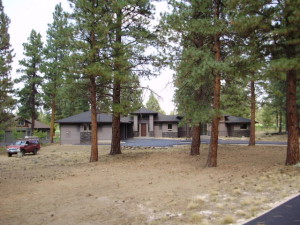 A robust housing market heralds economic vitality and increased lead-times.
It continues to be very busy in the construction industry in Central Oregon and 2016 appears to be more of the same. Benefits of the increase in construction activity can be felt through-out the economy, but while welcome, come with additional challenges. General contractors and sub-contractors find themselves stretched thin and juggling the increased work-load. This has caused extended lead-times and an increase in production time. Some trades have been able to adjust to the influx of work better than others, but it only takes one trade's delay to cause an increase in the completion time of a project. Businesses are hiring, but are still cautious of over-extending in both equipment and levels of employment, remembering the bitter and unpleasant lessons of the great recession that is only a few short years behind us. Smart builders and subcontractors are balancing their ability to produce with the amount of work they are committing to. Some subcontractors have taken this opportunity to actually whittle their client roster down to the builders they most want to work for, while at the same time hiring new employees because their work load has increased, even with a smaller client base.
Like many builders in the area Cascade Custom Homes has certainly felt the effect of the revitalized economy and the need to balance the amount of contracted work with how much of the available prospective work to take on. While it's common to want to take on as much business as is available, you have to make it a priority that the existing work can be effectively run and kept organized. Sometimes this means saying no to a project you would normally like to contract for.
In times like these a builder has to watch more than ever for subcontractors that take on too much and start not performing at levels typical of the past. Delays and errors of one person affect all that come behind in a construction project and one delay can cause successively larger delays when each trade has to re-arrange a carefully laid out schedule. Now more than ever patience and a watchful eye are required in the field of construction management.